12 May 2013
Isabelle Antena - Hoping For Love [TWI 759 CD]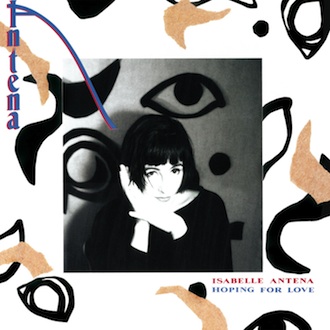 Hoping for Love
is the second solo album by Isabelle Antena, originally issued by Les Disques du Crépuscule in March 1987.
After
Camino Del Sol
and
En Cavale
,
Hoping for Love
saw Isabelle Antena step left of the dancefloor, expanding her Latin, funk and samba palette to include jazz and acoustic styles. With the originally vinyl running order now restored, the first five tracks offer dance and synth pop tracks, while the second half of
Hoping for Love
is a suite arranged and produced by Isabelle herself, and featuring crack jazz musicians such as Danny Cordova and Johnny Hot. This new digital re-master features five bonus tracks, including 12" mixes by Marc Moulin (Telex) and Mark Kamins (Madonna). The artwork is by Hitoshi Tagata.
Tracklist
1. Des Calins, Des Caresses
2. Laying on the Sofa
3. Naughty Naughty
4. Sweet Boy
5. La Tête contre les murs
6. Le poisson des mers du sud
7. Quand le jazz entre en lice
8. Melodie
9. L'Ideal
10. Musique de 4 à 6
11. Toutes les etoiles de Tunisie
12. Otra Bebera
13. Carriage Blind
14. I Will Jam
15. Little Fish from the Southern Sea
16. Laying on the Sofa (Mark Kamins Remix)
17. La Tête contre les murs (Marc Moulin Remix)
Out 20 May 2013 via
LTM Mailorder
Labels: Isabelle_Antena
- - - -
Blogger Archives
- - - -





Tropical Odds is the second solo album by Morgan Kibby, Grammy nominated writer/producer and former keys player with M83. Available on CD and vinyl (+ digital copy)

A collection of single A and B sides by legendary Scots band Josef K, including Radio Drill Time, Chance Meeting, Sorry For Laughing, It's Kinda Funny and Missionary. Vinyl album + digital copy. Sleeve by JFO.






Remastered vinyl edition of the classic debut album by Anna Domino, with guests Virginia Astley and Blaine Reininger. Bonus single tracks and digital copy. Available on vinyl only.

A collection of classic early singles and solo experiments by the former Josef K singer, recorded 1981/82. Includes Drama and Swing In 82, as well as 12" mixes of Running Away and Justice. Sleeve by Hennebert.