27 Oct 2017
VIRNA LINDT / Shiver / TWI 195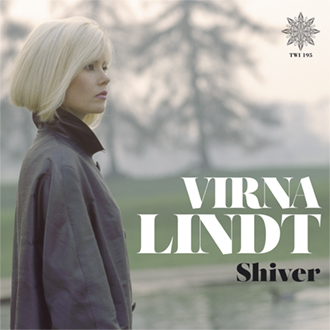 Les Disques du Crepuscule are pleased to present an extended double disc reissue of
Shiver
, the acclaimed debut album by seminal Swedish pop artist Virna Lindt, originally released by The Compact Organisation in 1983.
Written and produced by Virna Lindt and Tot Taylor,
Shiver
offers 12 slices of chic orchestrated pop informed by 'foreign film' soundtracks, movie composers John Barry and Ennio Morricone, Modernist musique concrete and Cold War spy thrillers. The album spawned three singles: Attention Stockholm, Intelligence and I Experienced Love. For the most part Lindt provides the voiceover for her own narratives, occasionally striking reflective poses amid orchestral swells and multi-layered atmospherics; a clear influence on later acts such as Pulp, St Etienne, The Cardigans and Air.
This new edition of
Shiver
showcases acoustically-enhanced mixes prepared by Taylor and Lindt in 1997, augmented with non-album singles Model Agent and Young & Hip, and immaculate instrumental versions of key album tracks such as Underwater Boy and The Dossier on Virna Lindt. The extended tracklist also finds room for a leftfield cover of Windmills of Your Mind, originally written by Michel Legrand for The Thomas Crown Affair and recorded for the Crepuscule compilation album Moving Soundtracks.
Cover image by E.A. Janes. The 2xCD edition is housed in a 6 panel digipack with a 12 page booklet. The double vinyl set comes in a stylish gatefold sleeve and includes a free digital copy.
For further details
click here
12 Sep 2017
BLAINE L. REININGER / Night Air / TWI 267 CD
4 Sep 2017
MIKADO / Forever / TWI 105
- - - -
Blogger Archives
- - - -





Tropical Odds is the second solo album by Morgan Kibby, Grammy nominated writer/producer and former keys player with M83. Available on CD and vinyl (+ digital copy)

A collection of single A and B sides by legendary Scots band Josef K, including Radio Drill Time, Chance Meeting, Sorry For Laughing, It's Kinda Funny and Missionary. Vinyl album + digital copy. Sleeve by JFO.






Remastered vinyl edition of the classic debut album by Anna Domino, with guests Virginia Astley and Blaine Reininger. Bonus single tracks and digital copy. Available on vinyl only.

A collection of classic early singles and solo experiments by the former Josef K singer, recorded 1981/82. Includes Drama and Swing In 82, as well as 12" mixes of Running Away and Justice. Sleeve by Hennebert.