8 Sep 2019
JOSEF K / The Scottish Affair Pt 2 / TWI 019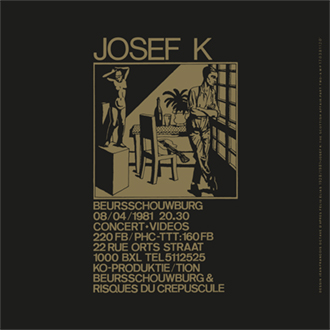 Crepuscule presents
The Scottish Affair (Part 2)
, a vibrant live album by iconic Scottish guitar group Josef K recorded at the historic Beursschouwburg arts centre in Brussels on 8th April 1981.
Best known for their association with Postcard Records, Josef K also recorded two singles for Belgian indie Les Disques du Crepuscule (Sorry For Laughing; The Missionary), and also taped studio album
The Only Fun In Town
in downtown Brussels. The group first performed in the city on New Year's Eve 1980, playing a riotous show with Orange Juice and Marine at legendary warehouse venue Plan K, and resumed their 'Scottish affair' with Crepuscule the following April, cutting their album in a matter of days and performing at the Beursschouwburg as well as a small youth club in Lier three nights later.
At the Beurs show Jokay rattled off 10 songs in just half an hour, with journalist Bert Bertrand noting
"several good reasons to get excited"
about the visiting quartet. Adds guitarist Malcolm Ross:
"We played four dates in Holland on our way to Brussels and then recorded the album in about five days. So we were pretty tight and Paul was in good voice."
Recorded from the mixing desk, all 10 songs have now been newly re-mastered for issue as a vinyl only album,
The Scottish Affair (Part 2)
. Pressed in a limited edition of 1000 copies in clear vinyl, the sleeve features original 1981 poster artwork by designer Jean-Francois Octave printed in black overlaid with metallic gold pantone. The inner bag includes period flyers and images, as well as quotes by Paul Haig, Malcolm Ross, Alan Horne, Michel Duval, Annik Honore, Allan Campbell and Bert Bertrand.
LP tracklist:
A1. Fun 'N' Frenzy
A2. 16 Years
A3. It's Kinda Funny
A4. Crazy To Exist
A5. Forever Drone
B1. Revelation
B2. Citizens
B3. Chance Meeting
B4. Sorry For Laughing
B5. Final Request
Available as a clear vinyl album (with digital download) or digital copy (MP3). To order please select correct shipping option and click on Add To Cart button, or else contact LDDC by email. FOR RELEASE IN NOVEMBER 2019.
Available on LP and digital download (MP3).
For further details
click here
- - - -
Blogger Archives
- - - -





A brand new album by acclaimed electronic duo Ultramarine, with guest vocals from Anna Domino. Recorded and mixed by Andy Ramsay (Stereolab). Available on CD/2xLP/ digital.

A brand new album by former Josef K frontman Paul Haig exploring glitchy, twisty sonic territories. Available on CD/2xLP/ digital + limited edition bundle in a numbered wooden box!






A brand new studio album by Tuxedomoon founder member Blaine L. Reininger, part vocal and part instrumental, produced by Blaine and mixed by Coti K. Available on CD and digital.

A definitive double disc anthology by French synth-pop legends Mikado, featuring the singles Par Hasard, Un Naufrage en Hiver and La Fille du Soleil, as well all studio tracks released on record and unreleased demos. Sleeve by Pierre et Gilles.