20 Nov 2021
23 SKIDOO / The Culling Is Coming / TWI 123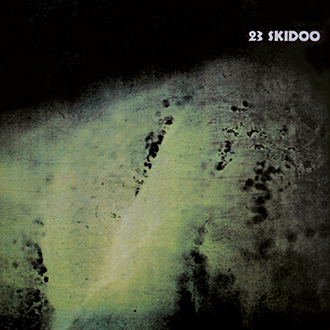 First released by Les Disques du Crépuscule and Operation Twilight in February 1983,
The Culling is Coming
flagged two radical new directions for Skidoo following funky indie chart-topper
Seven Songs
the previous year.
Drawn from two extraordinary live performances,
Culling
combined a Balinese Gamelan inspired session recorded at Dartington College of Music in October 1982, together with extracts from a more extreme, improvised set at the first WOMAD festival in July 1982, using scrap metal and tape loops. Both sides of the album were exactly 23 minutes long, side one signing off with a stylus-hostile locked groove.
Digitally remastered,
The Culling is Coming
has been expanded to include a complete (and equally extreme) 26 minute loop performance at Tielt, Belgium, on 8 October 1982. Recorded as part of Crépuscule's short Move Back/Bite Harder tour with Cabaret Voltaire, Tuxedomoon, Antena and The Pale Fountains. The extended set runs for 76 minutes. The CD booklet features the original artwork along with contextual notes by Skidoo's Alex Turnbull.
Available on CD and digital (MP3). The CD replaces BOUCD 6604, which is now out of print.
For further details
click here
5 Nov 2021
PAUL HAIG / The Warp of Pure Fun / TWI 669
- - - -
Blogger Archives
- - - -





A brand new album by acclaimed electronic duo Ultramarine, with guest vocals from Anna Domino. Recorded and mixed by Andy Ramsay (Stereolab). Available on CD/2xLP/ digital.

Vibrant 10 track vinyl album by iconic Scottish guitar group Josef K, recorded live at the Beursschouwburg arts centre in Brussels on 8th April 1981. Clear vinyl disc with sleeve by JFO and printed inner bag. Available on LP + digital (MP3)






Brand new collection of soundtrack material by Tuxedomoon founder member Blaine L. Reininger, recorded between 2015 and 2019. Mixed by Koti K. Available on 2xCD + digital (MP3).

First ever vinyl release for this 1996 album by The Durutti Column, with 2 bonus tracks and brand new cover art by Benoit Hennebert and Vini Reilly. Limited edition pressed on coloured vinyl (blue + clear). Available on 2xLP, CD and digital (MP3)