10 Jul 2021
DURUTTI COLUMN / Deux Triangles Deluxe / FBN 100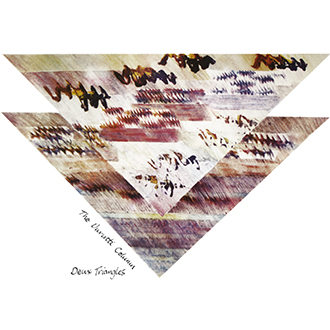 Factory Benelux presents a deluxe double vinyl gatefold edition of
Deux Triangles
, originally a 1981 EP by acclaimed Factory group The Durutti Column, which can be considered a companion set to their signature second album
L.C.
Just 1000 copies have been pressed on blue and clear coloured vinyl for Record Store Day on 17 July 2021.
Recorded in Brussels and Manchester in 1981,
Deux Triangles
began life as single on which Vini Reilly intended to showcase his piano playing as well as his trademark shimmering, filigree guitar. Bruce Mitchell played drums, with his artist wife Jacqueline also contributing tentative bass guitar as well as the record's beautiful watercolour cover art.
Delayed by the release of the sublime
L.C.
album in November 1981,
Deux Triangles
eventually appeared on Factory Benelux the following year and featured 5 tracks: Zinnia, Favourite Painting, For Patti, Weakness and Fever and Piece for Out of Tune Grande Piano, the latter a solo piano improvisation lasting fully 12 minutes.
Long deleted, the original 5 tracks are now expanded to 10 with the inclusion of several other pieces recorded for Benelux and sister label Crepuscule during the same period, including compilation tracks (One Christmas For Your Thoughts, Party, The Eye and the Hand) and album outtakes (Mavucha, Homage to Martinu). Vini's extended solo piano piece appears in the shortened form (Piece of Out of Tune Grand Piano) issued by Factory in 1986, the full length version being included on the digital version of
Deux Triangles Deluxe
.
Disc 2 is the complete 10 song live set performed by the group in Brussels on 13 August 1981, never before released on vinyl. Professionally recorded for Belgian radio, the festival gig coincided with the first studio session for
Deux Triangles
.
The newly remastered double disc set is housed in a gatefold sleeve printed on matt reverse board, with liner notes including a contemporary interview with Vini Reilly. Cover art and calligraphy by Jackie Williams. The digital version includes the full-length version of Piece for Out of Tune Grand Piano, lasting 12 minutes, as a bonus track, as well as Verbier.
For further details
click here
- - - -
Blogger Archives
- - - -





A brand new album by acclaimed electronic duo Ultramarine, with guest vocals from Anna Domino. Recorded and mixed by Andy Ramsay (Stereolab). Available on CD/2xLP/ digital.

Vibrant 10 track vinyl album by iconic Scottish guitar group Josef K, recorded live at the Beursschouwburg arts centre in Brussels on 8th April 1981. Clear vinyl disc with sleeve by JFO and printed inner bag. Available on LP + digital (MP3)






Brand new collection of soundtrack material by Tuxedomoon founder member Blaine L. Reininger, recorded between 2015 and 2019. Mixed by Koti K. Available on 2xCD + digital (MP3).

First ever vinyl release for this 1996 album by The Durutti Column, with 2 bonus tracks and brand new cover art by Benoit Hennebert and Vini Reilly. Limited edition pressed on coloured vinyl (blue + clear). Available on 2xLP, CD and digital (MP3)