14 Feb 2021
BUSCEMI ft. LAUVE / La Jungle / TWI 1248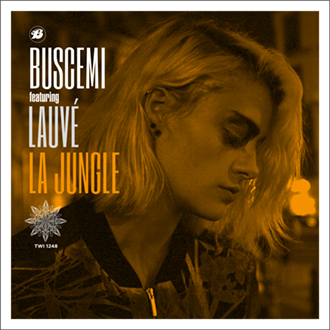 Crépuscule presents La Jungle, a new single for 2021 by acclaimed Belgian DJ, producer and remixer Buscemi, featuring vocals and lyrics by compelling newcomer Lauvé.
Since 2001 Buscemi (real name Dirk Swartenbroekx) has released 8 solo long players as well as mix albums for Blue Note and Ministry of Sound, plus film and television soundtracks. Remix clients have included Melody Gardot, Isabelle Antena, Calexico, Hooverphonic and Nicola Conte. Seaside, his 2003 collaboration with Isabelle Antena from signature album
Camino Real
, remains a perennial favourite around the globe. His eighth studio album,
Luna Misteriosa
, was issued by Crépuscule in 2018.
Hard-edged retro-futurist synthpop track La Jungle heralds forthcoming album
Mistral du Sud
(TWI 1250) and features guest vocals from Lauvé, formerly of Brussels electronic pop duo P.A.N.T.H.E.R.
"La Jungle is about a man-eater"
, explains Lauvé (pronounced lo-vay).
"She seduces her prey, little by little - then either devours him, or drives him away. It's a song that allows a woman to have control over the game of seduction. It's empowering, I hope - but with a hint of recklessness too."
The single is a limited edition edition of 500 copies in orange vinyl, with cover photography by Laura Levasseur.
For further details
click here
- - - -
Blogger Archives
- - - -





A brand new album by acclaimed electronic duo Ultramarine, with guest vocals from Anna Domino. Recorded and mixed by Andy Ramsay (Stereolab). Available on CD/2xLP/ digital.

Vibrant 10 track vinyl album by iconic Scottish guitar group Josef K, recorded live at the Beursschouwburg arts centre in Brussels on 8th April 1981. Clear vinyl disc with sleeve by JFO and printed inner bag. Available on LP + digital (MP3)






Brand new collection of soundtrack material by Tuxedomoon founder member Blaine L. Reininger, recorded between 2015 and 2019. Mixed by Koti K. Available on 2xCD + digital (MP3).

First ever vinyl release for this 1996 album by The Durutti Column, with 2 bonus tracks and brand new cover art by Benoit Hennebert and Vini Reilly. Limited edition pressed on coloured vinyl (blue + clear). Available on 2xLP, CD and digital (MP3)