9 Aug 2020
ANNA DOMINO / East & West / TWI 187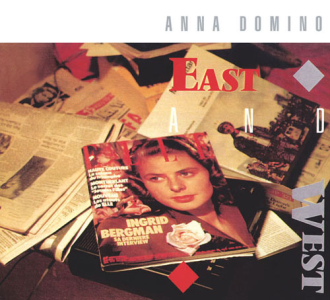 East and West
is the first album by Anna Domino, originally released by Crépuscule in 1984, and newly expanded as a 2xCD in 2020.
Anna's poised, and poignant, debut set was recorded at Daylight Studio, Brussels with guest contributions from Virginia Astley, Blaine L. Reininger (of Tuxedomoon) and Luc Van Acker. The five tracks on the original mini-album include her first single, Trust In Love (an NME single of the week), as well as a beguiling cover of Aretha Franklin's Land Of My Dreams.
Rare b-side track Repeating concludes the studio component. This is followed on disc one by seven live tracks professionally recorded at Parco in Tokyo, Japan, in January 1987. The band includes guitarist Michel Delory, and Alan Rankine on keyboards. Highlights here include two otherwise unrecorded songs (Change and Just Too Much), as well as an expansive 12 minute version of Caught.
Our new 2020 2xCD edition includes a bonus second disc,
North and South
, featuring vocal cameos and covers recorded by Anna between 1984 and 2020. These include collaborations with Luc Van Acker, Marc Moulin, Kid Montana, Stanton Miranda, Jean-Michel Basquiat, The The, Stephin Merritt, Buscemi, Ultramarine and The Hood.
Artwork by Joel Van Audenhaege, with liner notes by Anna.
Disc 1:
1. With the Day Comes the Dawn
2. Land Of My Dreams
3. Review
4. Everyday I Don't
5. Trust, In Love
6. Repeating
7. 'Rythm' (live)
8. My Man (live)
9. Take That (live)
10. Change (live)
11. Just Too Much (live)
12. She Walked (live)
13. Caught (live)
Disc 2:
1. Zanna (w. Luc van Acker)
2. Dreamback (w. Stanton Miranda)
3. Crime (w. Jean-Michel Basquiat)
4. Scat (w. Marc Moulin)
5. Joey Came Home (w. Kid Montana)
6. Here In My Heart (w. Stephin Merritt)
7. Pome On Dr Sax (w. Jack Kerouac)
8. December Sunlight (w. The The)
9. Pillar Box Red (w. The The)
10. The Light Downtown
11. Marbletown Girl (w. Snakefarm)
12. Arithmetic (w. Ultramarine)
13. Beautiful As Sorrow (w. Buscemi)
14. Spark From Flint to Clay (w. Ultramarine)
15. She Keeps (w. The Hood)
For further details
click here
- - - -
Blogger Archives
- - - -





A brand new album by acclaimed electronic duo Ultramarine, with guest vocals from Anna Domino. Recorded and mixed by Andy Ramsay (Stereolab). Available on CD/2xLP/ digital.

Vibrant 10 track vinyl album by iconic Scottish guitar group Josef K, recorded live at the Beursschouwburg arts centre in Brussels on 8th April 1981. Clear vinyl disc with sleeve by JFO and printed inner bag. Available on LP + digital (MP3)






Brand new collection of soundtrack material by Tuxedomoon founder member Blaine L. Reininger, recorded between 2015 and 2019. Mixed by Koti K. Available on 2xCD + digital (MP3).

First ever vinyl release for this 1996 album by The Durutti Column, with 2 bonus tracks and brand new cover art by Benoit Hennebert and Vini Reilly. Limited edition pressed on coloured vinyl (blue + clear). Available on 2xLP, CD and digital (MP3)