23 Jan 2017
ISABELLE ANTENA / Sous Influences / TWI 1229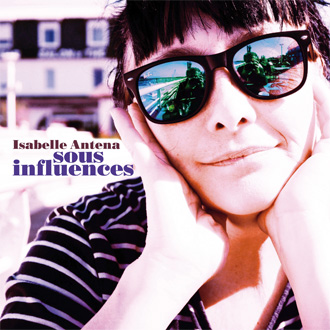 Sous Influences
is a brand new studio album from
Isabelle Antena
, the French jazz-pop-bossa polymath who first found fame with electro-samba trio Antena and influential debut album
Camino del Sol
.
Mostly produced by husband Denis Moulin in Brussels, Goa and Soumont (France), the 12 track album began life as an album by occasional band Pause Cafe.
'But then Denis lost his father Marc,'
explains Isabelle,
'and the project had to be put on hold. The other members of Pause Cafe worked on other projects, while I released a lot of dance tracks via Beatport as Antena-Solar. That's how I met the DJ and House music producer J.T. Donaldson, from Dallas. He wanted to produce some jazzy music with me and that lead to My Lexicon and Aht Uh Mi Hed.'
In 2016, with Denis back on board, the couple decided to round up all these tracks as a new Isabelle solo album, Sous Influences, mixing jazz and bossa nova styles. The working template was an old skool vinyl album.
'With two distinct sides,' says Isabelle. 'Our own original material, and also covers of key songs that have influenced my current musical direction, arranged by Denis a la Bill Evans, thus fulfilling a musical dream.'
Sous Influences
is Isabelle's first new album on Les Disques du Crepuscule since 2001. Welcome home!
For further details
click here
- - - -
Blogger Archives
- - - -





Tropical Odds is the second solo album by Morgan Kibby, Grammy nominated writer/producer and former keys player with M83. Available on CD and vinyl (+ digital copy)

A collection of single A and B sides by legendary Scots band Josef K, including Radio Drill Time, Chance Meeting, Sorry For Laughing, It's Kinda Funny and Missionary. Vinyl album + digital copy. Sleeve by JFO.






Remastered vinyl edition of the classic debut album by Anna Domino, with guests Virginia Astley and Blaine Reininger. Bonus single tracks and digital copy. Available on vinyl only.

A collection of classic early singles and solo experiments by the former Josef K singer, recorded 1981/82. Includes Drama and Swing In 82, as well as 12" mixes of Running Away and Justice. Sleeve by Hennebert.