13 Mar 2016
JOSEF K / It's Kinda Funny / TWI 022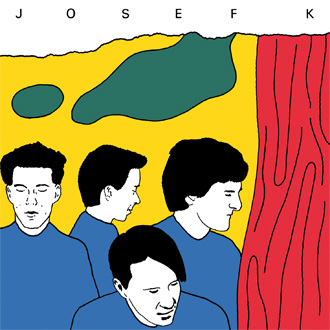 Crepuscule presents
It's Kinda Funny
, a vinyl-only collection of classic singles by iconic Scottish post-punk guitar group Josef K issued between 1979 and 1982.
As well as the three legendary 45s on Postcard Records (Radio Drill Time, It's Kinda Funny and Chance Meeting), the album also includes both Crepuscule singles (Sorry For Laughing, Missionary) as well as the original Absolute version of Chance Meeting from 1979. B-side tracks are also included, plus a digital download coupon.
Cover art by Jean-Francois Octave. Outer sleeve printed on matt reverse board. Inner bag features liner notes and archive images by Simon Clegg.
"Josef K specialised in cerebral, nerve-jangling funk, like disco played by Franz Kafka (or Franz Ferdinand). They also had some of the best, most insidious guitar riffs ever, notably The Missionary and Revelation, although they could do mordant: see It's Kinda Funny. What's no laughing matter is this music's dour brilliance"
(Classic Pop, 03/2016)
Available on vinyl LP only. Free ICA Rock Week poster with mailorder copies while stocks last. For further details
click here
- - - -
Blogger Archives
- - - -





Tropical Odds is the second solo album by Morgan Kibby, Grammy nominated writer/producer and former keys player with M83. Available on CD and vinyl (+ digital copy)

A collection of single A and B sides by legendary Scots band Josef K, including Radio Drill Time, Chance Meeting, Sorry For Laughing, It's Kinda Funny and Missionary. Vinyl album + digital copy. Sleeve by JFO.






Remastered vinyl edition of the classic debut album by Anna Domino, with guests Virginia Astley and Blaine Reininger. Bonus single tracks and digital copy. Available on vinyl only.

A collection of classic early singles and solo experiments by the former Josef K singer, recorded 1981/82. Includes Drama and Swing In 82, as well as 12" mixes of Running Away and Justice. Sleeve by Hennebert.