5 Jul 2014
Annik Honoré (1957-2014)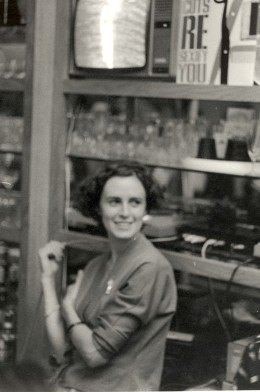 On July 3rd we learned with great sadness that our co-founder and friend Annik had passed away following a short battle with cancer. Annik co-founded Factory Benelux and Crépuscule with Michel Duval in 1980, having already organised a series of landmark happenings at the Plan K in Brussels (including Factory, Zoo and Postcard nights), and would also play a major role in promoting some of the best Belgian bands of the era including Digital Dance, The Names, Marine and Front 242. There's another story too, which got turned into a movie, but that shouldn't define her.
The name Crépuscule - 'twilight' - was Annik's idea. The photo above is from happier times and shows her relaxing at Intérferences, the Crépuscule cafe/bar on Rue de la Tête d'Or. Actually Annik smiled a lot, and was one the warmest, kindest, most generous and honourable people it's been my privilege to know. In 2009, when we returned to Plan K with A Certain Ratio, Section 25, The Wake and The Names, a friend of mine got rather tired and emotional in the wee small hours and had to be taken back to the hotel. It was Annik who stepped in to drive her across town at 3am in the morning and make sure she was safe, even though they had never met before. That's the Annik we will always remember, and will always love.
Adieu, Annik. Your star will shine forever in our Twilight.
- - - -
Blogger Archives
- - - -





Tropical Odds is the second solo album by Morgan Kibby, Grammy nominated writer/producer and former keys player with M83. Available on CD and vinyl (+ digital copy)

A collection of single A and B sides by legendary Scots band Josef K, including Radio Drill Time, Chance Meeting, Sorry For Laughing, It's Kinda Funny and Missionary. Vinyl album + digital copy. Sleeve by JFO.






Remastered vinyl edition of the classic debut album by Anna Domino, with guests Virginia Astley and Blaine Reininger. Bonus single tracks and digital copy. Available on vinyl only.

A collection of classic early singles and solo experiments by the former Josef K singer, recorded 1981/82. Includes Drama and Swing In 82, as well as 12" mixes of Running Away and Justice. Sleeve by Hennebert.